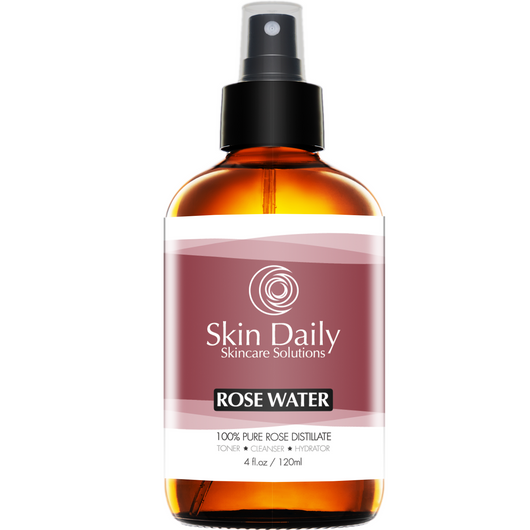 Rose Water Pure
Regular price $11.97 Sale
HEAVENLY FRESH ROSE SCENT- Skin Daily Pure Rose Water smells just like heaven. As if a fresh bouquet of stunning summer roses has been brought straight in from the garden, then bottled and rushed right to your doorstep. Skin Daily's Rose Water has a light fresh scent that is refreshing and delightful, and will leave your senses uplifted and your skin super soft and smelling delightful and pure.

COOLS AND SOOTHS SKIN IRRITATION- Skin Daily Rose Water has natural calming properties that cools red and irritated skin, soothes itchy skin, and hydrates dry skin. Our Rose Water is very refreshing on the face and feels amazing on your skin. Instead of having small bumps and irritations turn into large eruptions, apply Skin Daily Rose Water to calm down the skin and leave it feeling radiant and dewy.

PURE, NATURAL, UNCOMPROMISED- This is the real deal...the way Rose Water is suppose to be. 100% all pure and natural Rose Water is made by distilling rose petals in pure spring water. Unlike other brands, nothing else is added to our 100% Pure Rose Water, no alcohol to dry your skin, and no preservatives, only pure rosey goodness.

PAMPER YOURSELF- Tone with Skin Daily Pure Rose Water for a pampered sense of cleanness and softness. Tone with Skin Daily Rose Water to eliminate dry spots, take away that tight feeling caused by cleansing, and to make your skin feel soft and dewy. How does skin toned with Rose Water look? Skin will show a brighter more hydrated complexion and radiance and have your friends asking what your doing different with your skin care regimen.

WHEN YOU ORDER TODAY, DISCOVER THE SKIN DAILY DIFFERENCE- Our business is built on customer satisfaction and we take your satisfaction VERY serious. It's our #1 goal, our sole purpose, it's how we set ourselves apart. Having great products makes it easy.